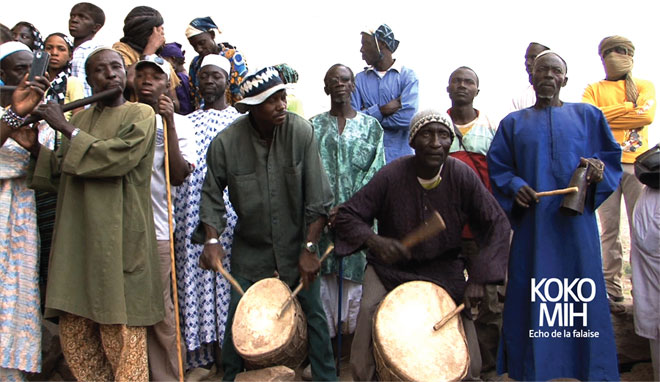 KOKO MIH – The Echo of the Cliff
The Echo of the Cliff is a reflection on the origins of music, its usefulness and its relationship with the souls of people. The Echo of the Cliff is also witnessing the practice of animism today.
KOKO MIH is an initiative from the Dogon people of the village of Banani, in Mali, and from the Cercle de la Culture Dogon de la Falaise de Bandiagara (Dogon Culture Circle of the Bandiagara Escarpment). This project aims to disseminate the knowledge, artistic and spiritual values ​​that come from the practice of Dogotem: The Dogon Culture.
You can watch clips from the film here
—
Movie informations
Direction
ORIOL CASALS
PIERRE GENET
Executive producers
MARTI CÀNAVES
DAGALOU GUIROU
First operator
ORIOL LLOPIS
Second operators
EDI ROVIRA
MARTI CÀNAVES
Assistant operators
BASIDOU DOLO
ABLAYE GUIROU
BARTHELEMY GUIROU
Colour
ENRIC SEBASTIÀ
STÉPHANE CATTAN
Audio Mastering
MARCO ROSTAGNO
Producers
CERCLE DE LA CULTURE DOGON DE LA FALAISE DE BANDIAGARA
ASSOCIATION KOKOMIH
DMT PRODUCCIONS
AMPLE STUDIO
With the participation of
AMAGA GUIROU, BARTHELEMY GUIROU, BASIDOU DOLO, BÉRÈDIO GUIROU, ATIMÉ GUIROU, YADÔ GUIROU, ENBIRÉ GUIROU, ABLAYE GUIROU, BASSO GUIROU, YADEGNÉ GUIROU, AÏDA GUIROU, ORSI GUIROU, AMAKANA GUIROU, HIBÉ GUIROU, KÉNEKO GUIROU, GONROKO GUIROU, EBELOU GUIROU, YATANOU GUIROU, MAHILA GUIROU, YANA GUIROU, AGUÊME GUIROU, EDIOUGO DOUYON, ALI GUIROU, AMA SAGOU GUIROU, JOSEF GUIROU, KODIO GUIROU, SAGOU POUDIOUGO, FATI GUIROU
Technical data
Colour: Colour / B&W
Projection Format: 16:9
Sound: Stereo 48/16
Length: 59'58"
Year of production: 2014
Nationality: MALI SPAIN FRANCE
—